Touchpoint Disinfection: What You Need to Know
By Cole Stanton
Did you know that a single doorknob can infect half of an office in only 2-3 hours?
Have you heard that 30% of employees have witnessed their co-workers leave the restroom without washing their hands?  Disinfecting can help reduce the spread of infection.
Essentially, there are five things you need to know about proper disinfection, particularly during a viral outbreak.

1 – Touchpoints
This is where you want to focus your efforts.  Touchpoints can vary based on your location but in general, think of door knobs, keypads, railings, turn styles, elevator buttons, garbage cans, drinking fountains, keyboards, restrooms including door locks, faucet handles, soap dispensers, tabletops….to list a few!
2 – Utilize an EPA Registered Disinfectant
Utilize an EPA registered disinfectant, and during a COVID outbreak an EPA List N disinfectant or a disinfectant tested against and approved for effectiveness in eliminating SARS-CoV-2.  If a product is EPA registered, the number will be listed on the label.  List N was developed by the EPA to aid the public in selecting disinfectants, that have qualified for use against SARS-CoV-2, the novel coronavirus that causes COVID-19.  To ensure a product is on List N, search the registration number in List N at epa.gov.
3 – Follow the Directions on the Products' Label
Look for instructions to include which types of surfaces the product can be used on.  It may call for precleaning from obvious dirt and grime.  The label will tell you the appropriate contact time for the disinfectant to be effective at killing viruses.  When it comes to EPA registered disinfectants, the label is the law.  Additionally, the efficacy of the product is based on following the manufacturers' recommendations.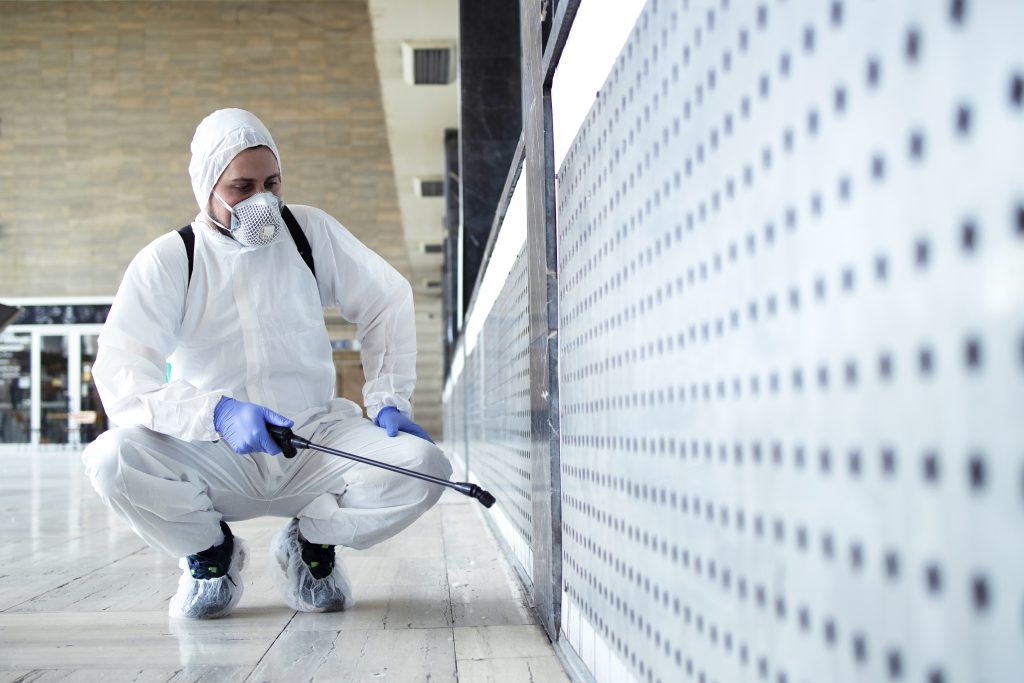 4 – Applying the Disinfectant Can Be as Simple or Sophisticated as You Like
The size and location of the job should determine how the product is applied.  For anything from homes to small offices, disinfectant wipes or a trigger spray bottle and a microfiber cloth work well.  As you progress into larger areas and more frequent disinfection, larger volume spray equipment may save time and add efficiency.  Ventilation should be considered into the equipment decision as well.  Options for spray equipment range from a simple compression sprayer up to foaming applicators and airless spray equipment.
5 – Repeat
During times of high illness among the occupants of a facility or community, disinfection frequency should increase.  This is even more applicable when discussing touch points, particularly during a pandemic!
Download Our Slides on Building Resistance to COVID-19 Infection
You know things aren't normal in our 'post-COVID' community and daily disinfection is needed but how, where and what standards and requirements exist. Download a PDF of the slides from industry expert Cole Stanton, Director of Education and AED Specification at ICP Building Solutions Group, to reference all you need to know about how you can best protect your employees, customers and your business against this pandemic.
Download Our Disinfection Slides
About the Author
Cole Stanton
As of Spring 2020, Cole Stanton is Director of Education and AED Specification for the Building Solutions Group (BSG) of ICP (Innovative Chemical Products). In building out a more structured and robust training, knowledge, and specification capability, Cole continues to engage and serve all 24 brands and over 12,000 construction projects in the BSG portfolio. These product areas include building envelope, environmental restoration & remediation, waterproofing, aesthetic finishes, industrial performance coatings, paint removers, marine applications, cementitious technologies, and recreational/athletic surfaces. ICP is the 10th largest coatings company in North America. ​
For 22 years prior, Cole served in leadership, technical and field sales roles for ICP's Fiberlock's products for remediation of asbestos, lead paint, mold, disaster recovery, and smoke/fire restoration. ​